When your kitchen is in desperate need of a facelift, one of the most impactful ways to take it from outdated to stunning, is to upgrade the cabinets. New custom cabinetry can dramatically change the look and function of your kitchen. But completely replacing your kitchen cabinets can be a huge project, not to mention a massive expense that many homeowners may not have the budget for. Luckily there are other ways to spruce up your kitchen cabinets without breaking the bank and without leaving you kitchenless for weeks or months. Instead of completely replacing their cabinets, many people consider refinishing or refacing them. Read on to find out more about these options and the differences in refinishing versus refacing kitchen cabinets.
Refinishing Vs Refacing Kitchen Cabinets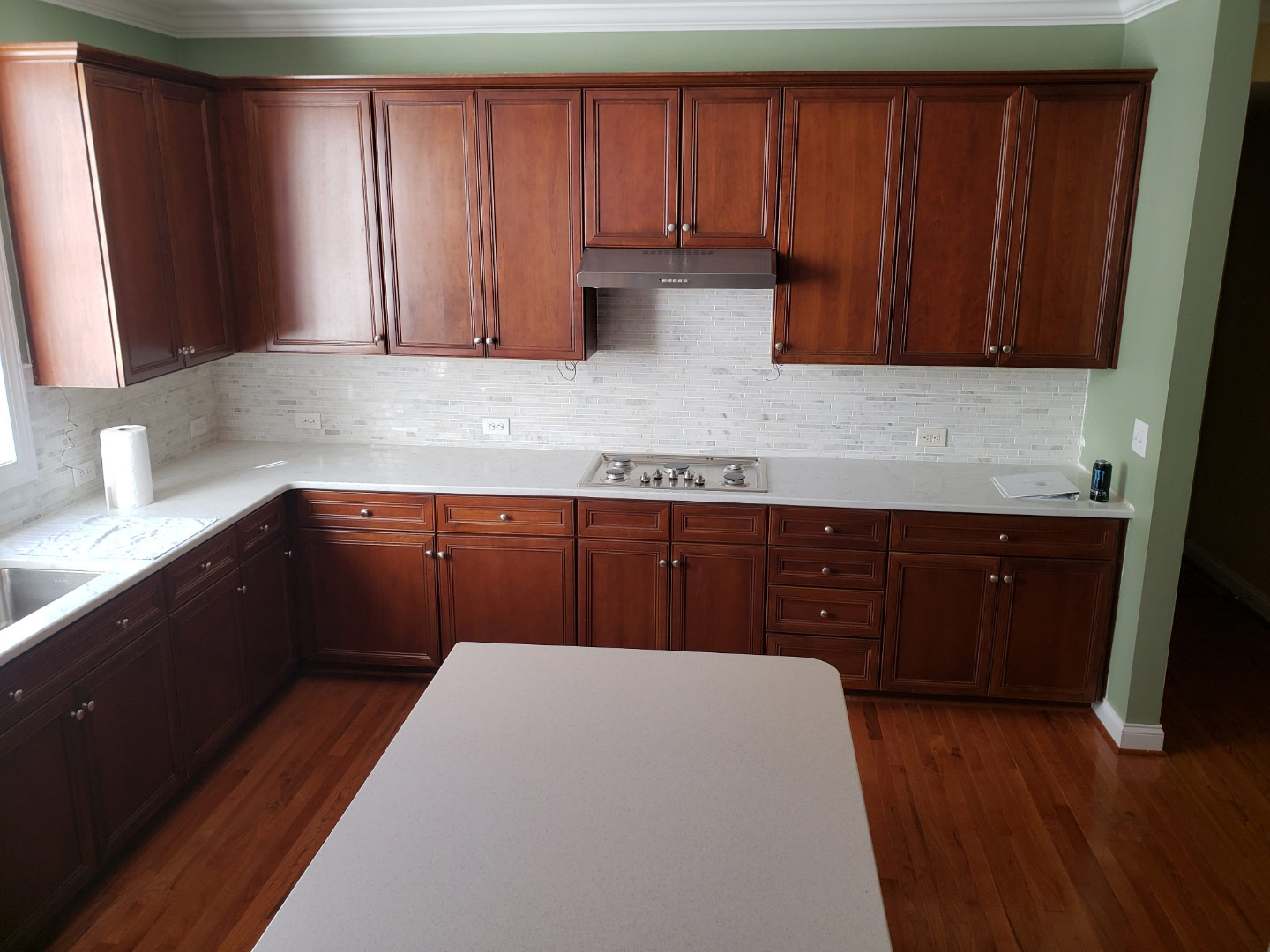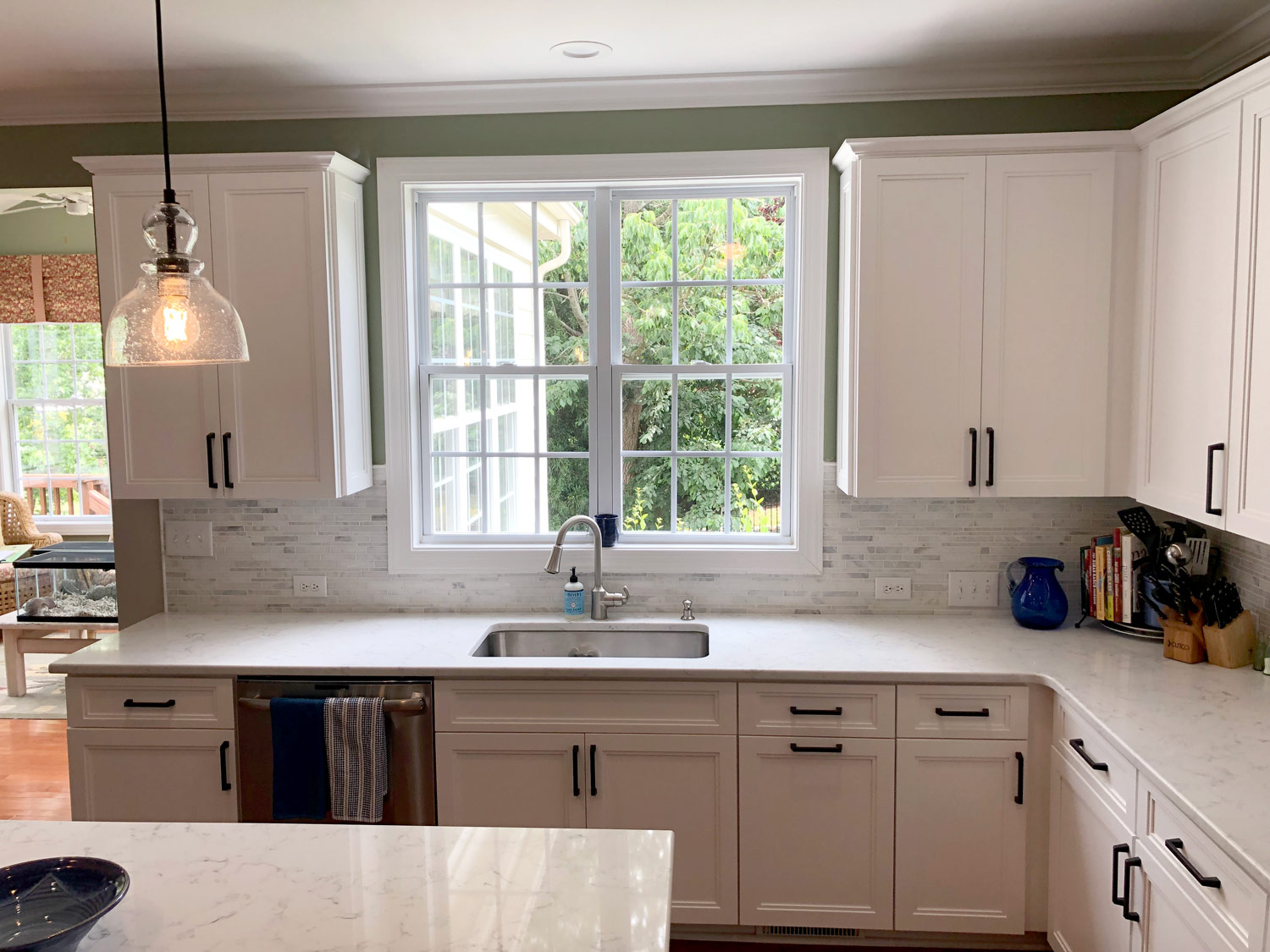 Slide the center line left or right to see before & after transformation.
Refinishing Kitchen Cabinets
If your wish is to update your cabinets to the latest trendy color, or simply brighten up your kitchen from a dated dark wood finish to a sleek modern white or gray, refinishing can be a great solution. Refinishing means that you are simply changing the color or finish of the cabinets while keeping all of the same components and style of your existing cabinets. Cabinet boxes are masked, or sanded and stripped of the existing finish and then refinished with your choice of paint or stain. Doors and drawer fronts are best finished in a climate-controlled environment. Hartley Group's onsite workshop in Cornelius, NC maintains the optimum temperature of 77°f. Fun Fact: Your kitchen cabinetry contractor should change the temperature in your home when work is being done properly.
Refinishing is generally the most affordable option when it comes to updating your kitchen. Unfortunately, refinishing is not an option for everyone. If your cabinets are damaged or worn, a new finish will unlikely cover more than minor issues. If your cabinets are made of laminate or medium-density fiberboard (or MDF), these materials cannot be sanded down or stained, and it's difficult to make the paint adhere to these surfaces.
Refacing Kitchen Cabinets
Refacing, which can also be called resurfacing, involves removing your existing cabinet doors and drawer faces and replacing them with completely new materials. It's an excellent option when you're looking to change the style of the cabinets, or replace damaged cabinet doors and drawer faces. Refacing offers you endless styles, colors, and options. The best part is it doesn't matter what condition your doors are in because they will be completely replaced.
While more affordable than replacing your cabinets, refacing can be more costly than refinishing and still limits the changes you can make to your kitchen because the cabinet holds will remain the same. Refacing takes a bit longer than refinishing because custom cabinet doors and drawer faces need to be ordered.
Which To Choose? Refinishing Vs. Refacing Kitchen Cabinets
Choosing the best option, whether skillfully painting vs. refacing kitchen cabinets, is up to you and your preference and budget. It depends on whether you want to change the shape and material of the cabinet doors and drawers or whether a new stain or paint will be enough to improve the look of your kitchen.
The Process
Even if you're not having your cabinets replaced, refacing and refinishing can take several days or more. Cabinet refacing generally involves a contractor taking up space in your kitchen, yard, or garage. Refinishing cabinets yourself can be labor-intensive, and DIY kits can leave unsightly brush strokes. With refinishing, the paint removal process can be toxic and may require you to leave your home for a day or more depending on the materials your contractor uses. Cabinet painters often use solvent-based paint, which is dangerous to you and your family.
Hartley Group does things differently. We have a complete showroom to help you pick out a new style for your cabinets if we are helping you reface. Hartley Group performs all masking, priming, painting, and finishing on our own site with a climate-controlled, multistep process. We use a proprietary 10-step process to give your cabinets a durable, long-lasting finish. Hartley Group uses only waterborne products which are VOC-compliant for hard, durable finish for interior wood surfaces. Our products apply seamlessly, resist yellowing, are fast drying, and resist fingerprints.
How to Update Your Kitchen Cabinets Without Painting Them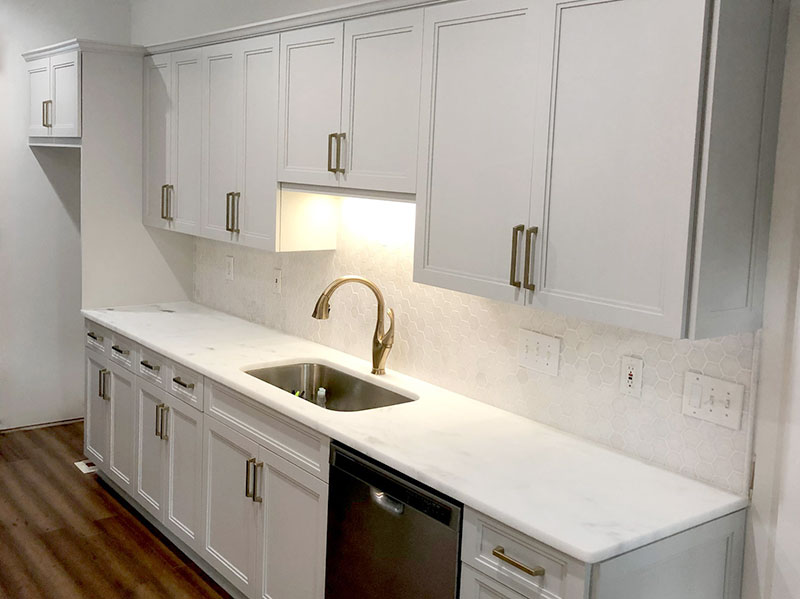 Are you looking for an easy way to update kitchen cabinets without painting or refinishing? Or are you about to put your home on the market and want to compete for buyers to get top dollar?
Simply replacing the hardware with more modern or sleek door knobs is a quick way to make a noticeable difference. Hartley Group has a showroom in Cornelius, NC with hundreds of knob and pull options in all finishes.
Adding shelf inserts or a lazy susan can help maximize your cabinet space, without a major construction process.
Contact us here for more information on how the Hartley Group team can help you easily get the kitchen upgrade you've always wanted!