One of the best ways to upgrade your home is by a kitchen redesign. Kitchens are the jewel of the home. Because design options are endless, it's easy to get carried away with ideas when making your plans. Make it easier on yourself by creating a kitchen wish list and clearly designate which things you must have and the things you would like to have. Once you have an idea of the functionality and fun you want to have in your kitchen, a skilled resource like Hartley Group can help you figure out what works for your space and your budget. Here are some things you'll want to include on your perfect kitchen wish list.
Kitchen Wish List Must Haves of 2019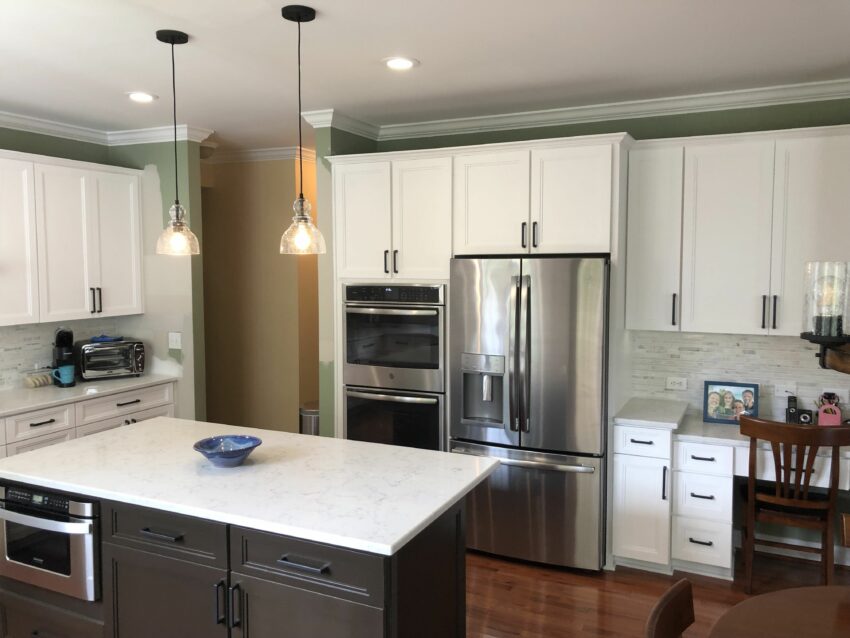 Custom Cabinetry: Go Two-Toned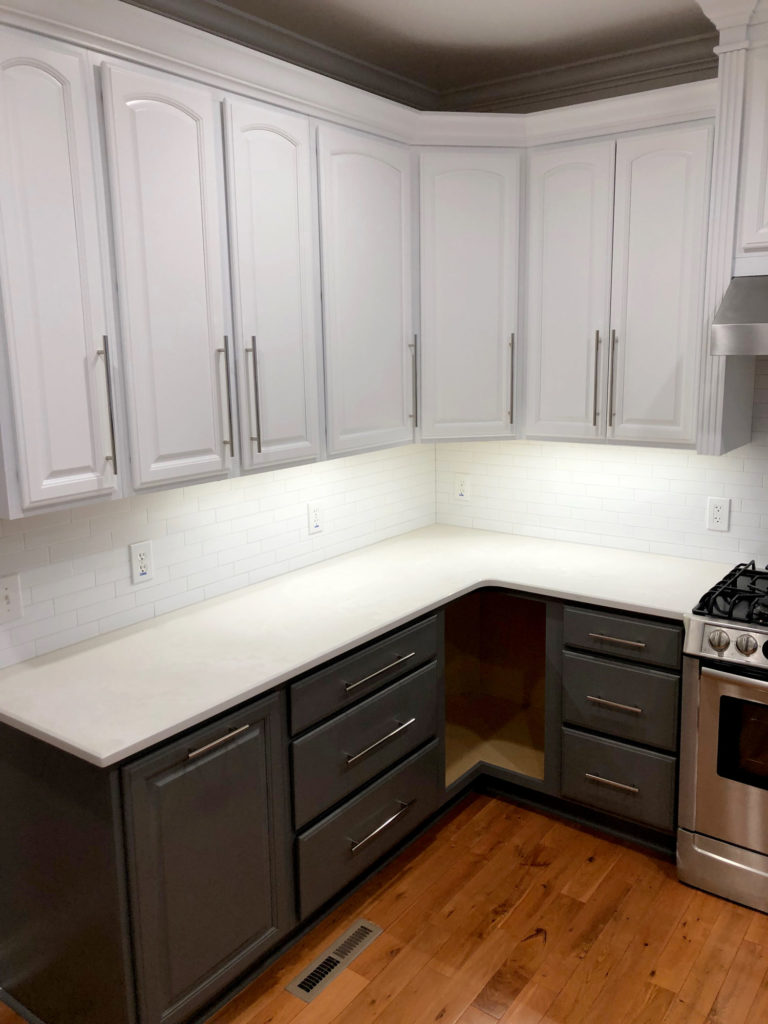 Quality cabinets are the bread and butter of kitchen design. Kitchen cabinets are most often made from wood or laminate, but the designs can still vary greatly. The best way to determine the cabinet design that is right for you is by visiting a showroom. A kitchen showroom will let you see the different styles of cabinetry available, as well as help you choose from many different finishes and paint colors. As custom cabinets can be one of the most expensive elements of kitchen design, you want to choose a style that will hold up for years or even decades using proprietary multi-step processes like Hartley Group does for a durable, long-lasting factory finish. White cabinets are popular now because they can brighten up a room and create an illusion of more space.
Tired of your old wood cabinets but you don't want to replace them? Old wood cabinets can be updated by custom refacing or refinishing. If you're wondering how to make oak kitchen cabinets look more modern and change with the trends, you can choose to refinish or reface, instead of doing an entire kitchen overhaul.
Another area homeowners often overlook is that the cabinetry in place may not be optimized for their space. Take a look around your kitchen. Are there areas that could use additional cabinetry for more storage, or is the configuration not perfect for the way you cook in your kitchen? Every kitchen is unique and yours might have nonstandard corners and gaps where custom-built cabinetry could maximize and make you say, "Why didn't we do this sooner?!" A cabinet carpenter builds cabinets to your specifications, so there is no wasted space or uneven corners. Skilled experts can also make suggestions for maximum storage and prep space, including a mix of traditional cabinets, deep drawers, and shelving.
Are you wanting something other than white kitchen cabinets? This year feel free to go bold with color or mix and match with two-tone cabinets. While classic white is still a staple, you can have some fun when choosing your cabinet colors. Choose one color on top and one color on the bottom. Open shelves are also on this year's kitchen wish list of must-haves.
Hardware: Go Chunky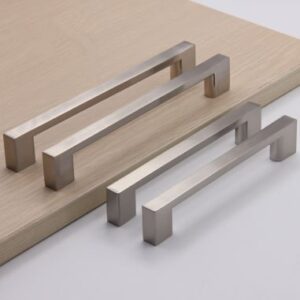 Hardware is a small but important way to customize your dream kitchen. Options for drawer pulls and door knobs are abundant, and a perfect way to add your own special flair to your kitchen. Keep in mind when selecting your hardware, the style should coordinate with other elements of your kitchen. For example, you may not like the look of shiny brass drawer handles when paired with all stainless appliances. Make sure to check out kitchen hardware when visiting a showroom and don't be afraid to think outside the box.
This year the trend is to go big and chunky with hardware. Make a statement with large champagne gold or matte black finishes.
Cabinet Accessories: What Suits Your Needs?
There are endless innovative options for cabinet accessories such as lazy Susans, spice racks, pull-outs, soft close doors and so much more. The top requested cabinet accessory project is for the trash can. If you want to move a sink's location or add a farmhouse style apron sink, cabinetry will need to be altered to accommodate. Use a trusted accessories provider like Rev-A-Shelf.

Countertops: Stone Still Reigns Supreme
Choosing your countertops is another key piece of kitchen redesign. Countertops come in several different materials and thousands of colors, from granite to quartz to concrete. Take the time to research the pros and cons of each material before you decide what to go with. Showrooms can be extremely helpful in choosing your countertop because you can get an idea of what they'll look like in your space and how they feel. Countertops can be expensive, but if they are installed correctly and taken care of, they can last a long time.
Stone countertops, like granite, marble, and quartz, are still top of the list when it comes to kitchen must-haves, but the stone has gone beyond the countertops this year. Make your backsplash a natural stone in a variety of patterns to bring nature into the kitchen.

Floor: Add Comfort With Wood
Where do most people congregate during a party? In the kitchen, of course! When choosing your floor, you want something stylish, but strong enough to stand up to a lot of traffic and inevitable messes that are easy to clean and maintain. Kitchen floors are frequently made of wood, laminate, linoleum, or tile, but there are several materials you can choose from. Ideally, your kitchen floor should be easy to clean, stain-resistant, and nonslip. If you spend many hours in your kitchen, you may want to consider that some materials, such as wood, may be more comfortable to stand on versus a harder surface like tile. Plus, it's trendy to bring nature into your kitchen this year and wood brings a relaxing finish to your kitchen.

Appliances: Matte Black, Stainless Steel & Tech
Do your research when deciding which appliances you want for your kitchen. Style-wise, do you want your appliances to stand out like a contrasting stainless steel? Or blend into white cabinetry with white? If you want to go trendy this year, matte black appliances are all the rage. Appliances now have more options than ever before and It's important to balance functionality with expense when considering what would truly make your kitchen versus what would just be nice to have. Do you want a dishwasher with drawers so you can run a small load every day? Gas or electric stove? Do you need a separate countertop range, or can you settle for a traditional stove and oven combination?
As kitchens grow more and more techy your choices are virtually endless! Are you dreaming of wifi-enabled espresso machines to make your cappuccino before you get out of bed? A seamless hood that looks integrated with the cabinetry? A temperature-controlled wine fridge? Or maybe you're looking at smart refrigerators like Samsung's Family Hub with cameras, wifi and touch screen to help you see inside while you're out grocery shopping, search recipes right from the fridge, and leave notes for family members. High tech is on trend and there's nothing like adding more convenience to your kitchen!

Lighting: Backlights and Pendants
Kitchens require a lot of lighting, especially if you tend to spend a lot of time cooking and entertaining. When designing your kitchen, keep in mind how natural light plays in, and then talk to your contractor about a combination of lighting styles that can transform your kitchen from a workspace to an entertaining space. Overhead task lighting on the ceiling and over the sink and stove are vital to a functional kitchen. Stylish pendant lights and under-cabinet lights can help set the mood for a cozy dinner or chat over a glass of wine. This year add luxury with mid-century Italian pendants to be on-trend.
Be Realistic About Your Space
Experienced contractors know the importance of kitchen space and can share tips to maximize storage and prep areas. Contractors can't make space where none exists though, and this may require you to temper your expectations. Can you consider taking out a wall and merging into the dining or living room? This may add significant expense to your construction costs, but you may be able to offset that with more moderate appliances and fixtures. If expanding is not an option, you'll need to be realistic about your expectations and adjust your kitchen wish list as necessary. Creating a functional kitchen means managing both your counter space and the space you have to walk around counters and appliances.
Extras
We've gone over most of the building blocks of functional design, but what wish list is complete without those extras that will take your kitchen to the next level. Think about how your kitchen will be primarily used, and then consider adding in some of these more luxury items.
Wine or beverage fridge. If you're an avid wine collector or wine drinker, a wine fridge is definitely worth considering. These can generally be installed under your counters to free up more space in your refrigerator.
Double oven, convection, or warming oven. If baking is your thing, or you're accustomed to hosting large family gatherings, a second oven or a warming drawer can significantly ease time management situations.
If stovetop cooking is at the top of your priorities, consider investing in a 6-burner range, instead of the standard 4. This will give you much more space and flexibility when you're stir-frying for a crowd.
Extra prep sink. If you tend to have multiple cooks in the kitchen, an extra prep sink can be invaluable. Consider also adding a hands-free faucet to help you out if you work with a lot of meat or baked goods.
Double-wide fridge or freezer. If you entertain a lot, extra fridge and freezer space may frequently come in handy. Just make sure you have the space for it!
Lots of outlets – these days, extra outlets are almost more of a necessity than a luxury. Home chefs are relying on more and more appliances, and most families are likely to have at least two people charging devices at any given time!
A new kitchen design is a project that can quickly get overwhelming with all of the options available. Make your life easier by doing some research, creating your ideal kitchen wish list, visiting kitchen showrooms, and working with designers and contractors you trust to make the most out of your space.
Hartley Group is a unique kitchen carpentry contractor in the Lake Norman area of NC creating custom kitchen cabinets homeowners dream about. Design-minded homeowners who are ready to make their kitchen on-trend can contact us here.
Want to know the difference between refinishing vs. refacing kitchen cabinets? Click here.
How much value does a kitchen remodel add to your home? Click here to find out.